The First 90 Days
by Michael D. Watkins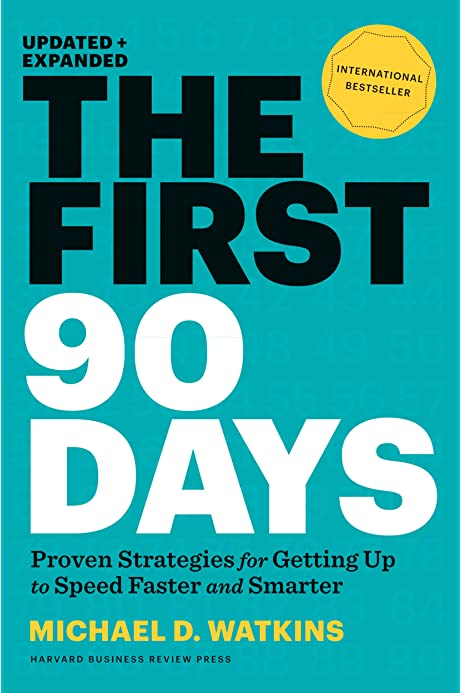 Why Should You Read The First 90 Days?
The First 90 Days is effective to help new leaders — from first-time managers to CEOs — understand the skills and factors that ease the transition process of their leadership journey. 
A long career at a single company is increasingly becoming a history. Employees usually experience many transitions, especially those in leadership roles. The ability to adjust quickly and effectively into a new role has become a critical skill to thrive in your career. 
In a study of 580 leaders — conducted jointly by Genesis Advisers, Harvard Business Review and the International Institute of Management Development — respondents reported an average of 18.2 years of professional work experience. Based on the research, leaders usually: 
Had been promoted 4.1 times

Moved between business functions (such as sales to marketing) 1.8 times,

Joined a new company 3.5 times

Moved between business units in the same company 1.9 times and geographically 2.2 times. 
In total, there are 13.5 major transitions per leader or one every 1.3 years. Some of these were in parallel but the implications are clear. Every successful career is a series of successful assignments that results from a successful transition. 
If the president of the United States gets 100 days to prove himself, you get about 90 days. 
The fundamental principles of effective transition acceleration hold up well across all levels. Every new leader needs to become quickly familiar with the new organisation to secure wins and build supportive coalitions.

The First 90 Days
provides guidelines for translating these principles to fit your own situation. 
Key Aspects at the Beginning of Transition 
The actions you take in your first few months in a new role will largely determine whether you succeed or fail. Failing a new assignment can spell the end of a promising career. But making a successful transition is about more than just avoiding failure. When leaders derail, their problems always traces back to vicious cycles that developed in the first few months on the job. There are also many others who survive, but they usually never realise their full potential. As a result, they lose opportunities to advance their careers and help their organisations thrive. 
Why are transitions critical? 
Watkins surveyed more than 1,300 senior HR leaders. Almost 90% agreed that "transitions into new roles are the most challenging times in the professional lives of leaders". Nearly 3/4 agreed that "success or failure during the first few months is a strong predictor of overall success or failure in the job". A bad transition doesn't necessarily doom you to failure, but it still puts a strain on your success. 
Transitions give you a chance to start afresh and make needed changes in an organisation. But transitions are also periods of acute vulnerability. After all, you're still lacking the established working relationships and a detailed understanding of your new role. 
You're managing under a microscope and prone to a high degree of scrutiny, as people around you try to understand who you are as a leader. 
Opinions of your work begin to form surprisingly quickly, and once formed, they're hard to change. If you're successful in building credibility and securing early wins, the momentum will likely propel you through the rest of your tenure. But if you dig yourself into a hole early on, you will face an uphill battle from that point forward. 
Avoiding transition traps 
Like most leaders, you've probably learned to make transitions in the school of hard knocks. Trying things, making mistakes, and ultimately winning through. In the process, you might have found approaches that have worked until now. But what works in some situations doesn't work in others. And you may not figure that out until it's too late. That's why it is crucial to follow a comprehensive framework for making transitions. Consider the list of the following traps through interviews from the leaders in the study. 
Sticking with what you know

 
Avoid over-repeating the things that you did in your previously successful role. That wouldn't encourage you to be innovative and embrace new competencies.
Falling prey to the action imperative

 
Taking rushed actions early on to put your stamp on the organisation would keep you from understanding your new surroundings. Instead, you would be making bad decisions that resist your initiatives.
Setting unrealistic expectations

 
Always establish clear and actionable objectives so you can meet the expectations of your boss and other key stakeholders.
Attempting to do too much

 
Avoid rushing off in all directions and launching multiple initiatives at the same time. It would confuse people and waste your resources on unproductive initiatives.
Coming in with the answer

 
Always be open with others' opinions. You don't want to alienate people who could potentially help you and squander opportunities to develop good solutions.
Engaging in the wrong type of learning

 
Instead of spending too much time learning the technical part of the business, you should also focus on the cultural and political dimensions of your role. You need to build the cultural insight, relationships, and information conduits to understand what is really going on.
Neglecting horizontal relationship

 
Avoid spending too much time on vertical relationships and neglecting peers and other stakeholders. You would miss early opportunities to build supportive alliances.
Preparing Yourself for the Promotion 
Julia was assigned to be the launch manager for one of the company's hottest new products. Her responsibility was to coordinate the work of a cross-functional team drawn from marketing, sales, R&D and manufacturing. The goal is to seamlessly move the product from R&D to production, oversee a rapid ramp-up, and streamline the market introduction. Unfortunately, Julia ran into trouble early on. 
Her earlier success in marketing was the result of her extraordinary attention to detail. She would regularly manage with authority and make the decisions, so she had a high tendency to control and micromanage. But soon enough, two key members of the team challenged her knowledge and authority. 
Stung from that, she focused on the area she knew best: the marketing aspects of the launch. Her efforts to micromanage the members of the marketing team alienated them. As predicted, Julia was back in marketing within a month and a half, with someone else leading the team. Julia failed because she did not make the leap from being a strong functional performer to taking on a cross-functional project-leadership role. 
She failed to grasp that the strengths that had made her successful in marketing could be liabilities in a role that required her to lead without direct authority or superior expertise. Julia kept doing what she knew how to do because it made her feel confident and in control. Of course, the result was the opposite. By not letting go of the past and fully embracing her new role, she had squandered a big opportunity to rise up in her organisation. 
It's a mistake to believe you will be successful in your new job without innovating your work tactics. Doing what you know and avoiding what you don't can appear to work for a while. But that only puts you in a state of denial until the walls come crashing down. There are two effective ways to prepare for your new role:  understanding the types of transition you're experiencing and figuring out the steps to excel in it.
Joining A New Company
In promotion situations, leaders typically understand a lot about their organisations, so they only need to develop the behaviours and competencies to be effective at new levels. However, if you are working in a new organisation, you will confront a very different transition challenge. Leaders joining new companies are often making lateral moves. After all, they've been hired to do something they've been successful doing elsewhere. 
As an example, consider David Jones from Energix, a small rapidly growing wind company. He was recruited from a reputable global manufacturing firm. Being an engineer by training, David had risen steadily through the ranks in R&D to become the vice president of new product development for the electrical distribution division. In one critical project, Energix's next-generation large turbine was nearly a year behind schedule and way over budget. David came away from his first couple of weeks, not sure what held them together. But he was convinced that he could push them to the next level. 
Dave then hit roadblocks. The senior management committee meetings started out frustrating and got worse.  As someone who used to have meetings with clear agendas and actionable decisions, David found the new committee's elliptical discussions and consensus-driven process agonising. 
Two months in, David's patience frayed. He simply focused on what he was hired to do. He took over some new meetings, outlined resource equipment, and got external consultants. But after a while, he was shocked by the stonewalling he was receiving from the CEO. David later learned that other employees were telling the CEO that David was being a bull in a china shop. 
Joining a new company is akin to an organ transplant, and you're the new organ. If you aren't thoughtful in adapting to the new environment, the organisational immune system would attack and reject you. Typically there is a higher failure rate from outside hires due to the following reasons: 
They aren't familiar with the informal networks of information and communication 

They don't understand the corporate culture and therefore have greater difficulty navigating 

New people are unknown to the organization and therefore do not have the same credibility as someone promoted within 
The culture in any organisation is generally multilayered. At the top of the culture pyramid are the surface elements, for example, a shared language. It exists in every organisation, so it's essential for you to invest early on in learning to speak like locals. Beneath the surface layer of language lies a deeper less visible set of organisational norms and accepted patterns of behaviour. These elements of culture include things like: how people get support for important initiatives, win recognition for accomplishments, or even how they view meetings. Are meetings a forum for discussion or a rubber stamp session? 
Managing Yourself 
The life of a leader is always a balancing act, but never more so than during a transition. The uncertainty and ambiguity can be crippling. You don't know what you don't know. You haven't had a chance to build a support network. If you've moved to a new city, you're undergoing personal transitions too. Amidst all the turmoil, you're expected to get acclimated quickly and begin a positive impact in your new organisation. Thus, managing yourself is a key transition challenge. 
Developing Personal Principles 
You need to start a regular routine and enforce it on yourself ruthlessly. Do you blindly agree to do things in the seemingly remote future, only to kick yourself when the day arrives and your schedule is full? Maybe whenever anybody asks you to do something, you can instead reply: "Sounds interesting. Let me think about it and get back to you." Never say yes on the spot if you're being pressed.
Do you find yourself getting caught up in emotional escalation in difficult situations? If you do, discipline yourself to stand back and assess the situation. It's a fundamental role of warfare to avoid fighting on too many fronts. For new leaders, this means stabilising the home front, so you can devote your energy to the important work. 
Staying on Track  
Self-management requires a strong commitment and consistency. Ultimately, your success or failure will flow from the small choices that you've made along the way. Your choices either create momentum or undermine your effectiveness. Your day-to-day actions during the transition period establish the pattern for everything that follows. Not only for the organisation but also for your personal efficacy and ultimately your well-being.  
Get Your Copy of The First 90 Days by Michael D. Watkins