Meditations
by Marcus Aurellius
Philosophy
Ashto =
Jonesy =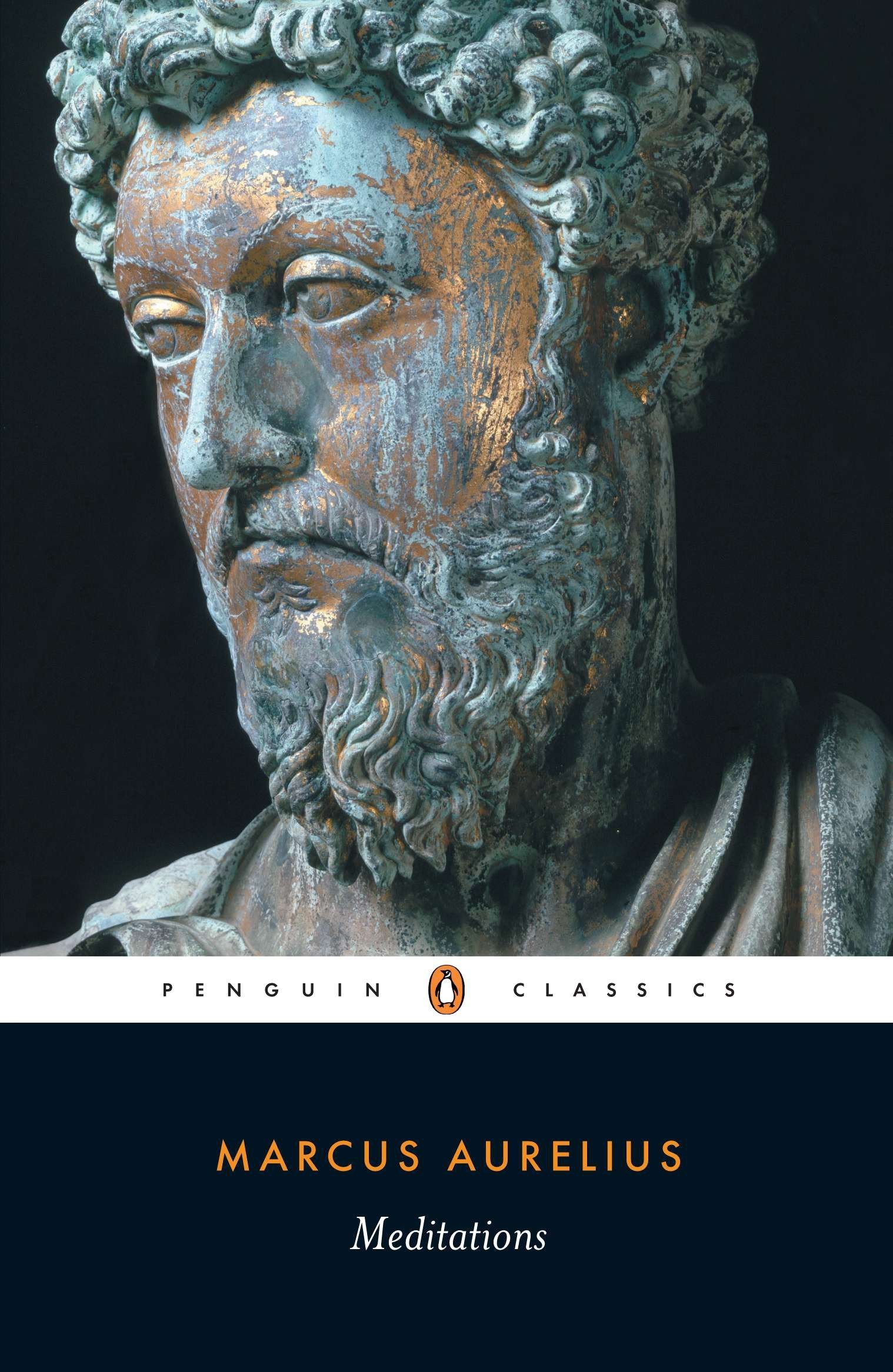 Meditations – by Marcus Aurelius
Originally written as a diary almost 2000 years ago, the struggles people faced then are almost identical to the ones we are facing today. This is one of the core books on stoic philosophy.
We recap some of the vital passages of the book and pull out the key themes: differentiating between the things you can control and the things you can't, responsibility and taking ownership, being indifferent toward things like death and change, and living in the present instead of the past or the future.
If you want to buy this book, make sure you get this version (other translations are harder to understand, this one is the best we've found that mixes the true essence of Marcus's sentiments with modern day understandable language): https://www.bookdepository.com/Mod-Lib-Meditations-Marcus-Aurelius/9780812968255/?a_aid=adamsbooks
INTRODUCTORY BASICS – A TASTE OF STOICISM
Two passages the give a great overview of the book and of Stoicism:
ONE
Discard your misperceptions
Stop being jerked like a puppet.
Limit yourself to the present.
Understand what happens – to you, to others.
Analyse what exists, break it all down: material and cause.
Anticipate your final hours.
Other people's mistakes? Leave them to their makers.
TWO
HOW TO ACT:
Never under compulsion, out of selfishness, without forethought, with misgivings
Don't gussy up your words  – No surplus words and unnecessary actions
Cheerfulness. Without requiring other people's help. Or serenity supplied by others
To stand up straight – not straightened.
Lessons that are packed into this one passage that we'll unpack further:
The basics of stoicism
self-reliance / personal responsibility
The importance of character and morals
taking initiative, not relying on others
ignoring others' opinions of you
ACCEPTANCE: being accepting of things you cannot control
other people's thoughts & actions
impermanence & death
humility
being forgiving of things you don't approve of
community & relationships
work and actions (your own and with others)
HOW TO ACT
If it's not right, don't do it. If it's not true, don't say it.
Practice even what seems impossible. The left hand is useless at almost everything, for lack of practice. But it guides the reins better than the right – from practice.
The impediment to action advances action. What stands in the way becomes the way.
If something bad happens, always can find a way to use it for yourself
To do harm is to do yourself harm. To do an injustice is to do yourself an injustice – it degrades you… and you can also commit injustice by doing nothing.
To undertake nothing: (i) at random or without purpose; (ii) for any reason but the common good
HOW TO THINK
External things are not the problem. It is your assessment of them. Which you can erase right now.
Don't be overheard complaining about life. Not even to yourself.
To live a good life? We have the potential for it – if we can learn to be indifferent to what makes no difference.
People find pleasure in different ways. I find it in keeping my mind clear. In not turning away from people or the things that happen to them. In accepting and welcoming everything I see. In treating each thing as it deserves.
"STOIC"
To be like the rock that waves keep crashing over. It stands unmoved and the raging of the sea falls still around it.
To shrug it all off and wipe it clean – every annoyance and distraction – and reach utter stillness. Child's play.
Dig deep; the water – goodness – is down there. And as long as you keep digging, it will keep bubbling up.
Nothing happens to anyone that he can't endure. The same thing happens to other people, and they weather it unharmed – out of sheer obliviousness or because they want to display "character".
Is wisdom really so much weaker than ignorance and vanity?
Straight, not straightened
SOME OTHER BASICS OF STOICISM
PURPOSE / MEANING
Practice the virtues you CAN show: honesty, gravity, endurance, austerity, resignation, abstinence, patience, sincerity, moderation, seriousness, high-mindedness.
Don't you see how much you have to offer – beyond excuses?
And yet you still settle for less.
When you have trouble getting out of bed in the morning, remember that your defining characteristic – what makes you a human being – is to work with others.
It's the characteristic activity that's the more natural one – more innate and more satisfying.
It's normal to feel pain in your hands and feet, if you're using your feet as feet and your hands as hands. And for a human being to feel stress is normal – if he's living a normal human life. And if it's normal, how can it be bad?
When you're going through stresses, it's normal, not bad
A better wrestler? But not a better citizen, a better person, a better resource in tight places, a better forgiver of faults.
LIVING IN THE PRESENT
The present is the same for everyone; its loss is the same for everyone; and it should be clear that a brief instant is all that is lost. For you can't lose either the past or the future; how could you lose what you don't have?
If you've seen the present then you've seen everything – as it's been since the beginning, as it will be forever. The same substance, the same form. All of it.
It stares you in the face. No role is so well suited to philosophy as the one you happen to be in right now.
Stick to what;s in front of you – idea, action, utterance.
This is what you deserve. You could be good today. Instead you choose tomorrow.
Possibilities:
1. to keep on living (you should be used to it by now)
2. to end it (it was your choice, after all)
3. To die (having met your obligations) Those are the only options. Reason for optimism.
LACK OF CONTROL (realising that, then accepting it)
Treat human beings as they deserve, be tolerant with others and strict with yourself.
Remember, nothing belongs to you but your flesh and blood – and nothing else is under your control.
Stupidity is expecting figs in winter, or children in old age
It is crazy to want what is impossible. And impossible for the unwise not to do so.
(there are some limitations on what the world can do for you…. )
IGNORE EXTERNAL THINGS
Things have no hold on the soul.
They have no access to it, cannot move or direct it. It is moved and directed by itself alone. It takes the things before it and interrupts them as it sees fit.
CHOOSING NOT THE BE HARMED (how you react)
Choose not to be harmed – and you won't feel harmed. Don't feel harmed – and you haven't been.
So other people hurt me? That's their problem.
Their character and actions are not mine. What is done to me is ordained by nature, what I do by my own.
Either pain affects the body (which is the body's problem) or it affects the soul.
But the soul can choose not to be affected, preserving its own serenity, its own tranquility. All our decisions, urges, desires, aversions lie within. No evil can touch them
SELF-RELIANCE / PERSONAL RESPONSIBILITY
THE IMPORTANCE OF CHARACTER AND MORALS
I have no right to do myself an injury. Have I ever injured anyone else if I could avoid it?
I was once a fortunate man but at some point fortune abandoned me.
But true character is what you make for yourself.
Good fortune: good character, good intentions, and good actions.
Not to be driven this way and that, but always to behave with justice and see things as they are.
Take the shortest route, the one that nature planned – to speak and act in the healthiest way.
Do that, and be free of pain and stress, free of all calculation and pretension.
It can only ruin your life if it ruins your character. Otherwise it cannot harm you – inside or out.
GENEROSITY / DOING THE 'RIGHT THING' / SELFLESSNESS
To move from one unselfish action to another. Only there, delight and stillness.
My only fear is doing something contrary to human nature – the wrong thing, the wrong way, or at the wrong time.
Nothing is good except what leads to fairness, and self-control, and courage, and free will. And nothing is bad except what does the opposite.
No one objects to what is useful to him. To be of use to others is natural. Then don't object to what is useful to you – being of use.
"And your profession?"  "Goodness" (And how is that to be achieved, except by thought – about the world, about the nature of people?)
TAKING OWNERSHIP & RESPONSIBILITY
To stop talking about what the good man is like, and just be one.
Today I escaped from anxiety. Or no, I discarded it, because it was within me, in my own perceptions – not outside.
Focus on what is said when you speak and on what results from each action. Know what the one aims at, and what the other means.
Characteristics of the rational soul: self-perception, self-examination, and the power to make of itself whatever it wants.
It reaps its own harvest, unlike plants (and, in a different way, animals), whose yield is gathered in by others
Awaken; return to yourself.
Now, no longer asleep, knowing they were only dreams, clear-headed again, treat everything around you as a dream.
The existence of evil does not harm the world. And an individual act of evil does not harm the victim. Only one person is harmed by it – and he can stop being harmed as soon as he decides to.
PROACTIVITY & TAKING INITIATIVE (not relying on others, not waiting for others)
Ambition means tying your well-being to what other people say or do.   –
Self-indulgence means tying it to the things that happen to you  –  Sanity means tying it to your own actions.
The student as a boxer, not fencer.
The fencer's weapon is picked up and put down again. The boxer's is part of him. All he has to do is clench his fists.
Not to assume it's impossible because you find it hard.
But to recognise that if it's humanly possible, you can do it too.
Indifference to external events. And a commitment to justice in your own acts. Which means: thought and action resulting in the common good. What you were born to do.
ESSENTIALISM / DOING LESS
"If you seek tranquility, do less".
Or (more accurately) do what's essential… Which brings a double satisfaction: to do less, better.  –
Because most of what we do is no essential. If you can eliminate it, you'll have more time, and more tranquility. Ask yourself at every moment, "Is this necessary?"
Busyness doesn't equal importance
Lots of useless shit you can do during the week
NOT GIVING UP
Disgraceful: for the soul to give up while the body is still going strong.
BEING ACCEPTING OF THINGS YOU CANNOT CONTROL
Start praying like this and you'll see: NOT "some way to sleep with her" – but a way to stop wanting to.
NOT "some way to get rid of him" – but a way to stop trying.
NOT "some way to save my child" – but a way to lose your fear. Redirect your prayers like that, and watch what happens.
IMPERMANENCE & DEATH
REALITY OF DEATH / ACCEPTANCE OF DEATH
It doesn't bother you that you weigh X or Y pounds and not more. Why should it bother you that you only have X or Y years to live and not more?
You accept the limits placed on your body – accept those placed on your time.
Keep this constantly in mind: that all sorts of people have died – all professions, all nationalities
. Follow the though all the way down, now extend it to other species. We have to go there too, where all of them have already gone.
Don't forget how many doctors have died, after furrowing their brows over how many deathbeds.
How many astrologers, after pompous forecasts about others' ends.
How many philosophers, after endless disquisitions on death and immortality
. How many warriors, after inflicting thousands of casualties themselves.
How many tyrants, after abusing the power of life and death atrociously, as if they were immortal themselves.
And all the ones you know yourself – one after another.
One who laid out another for burial, and was buried himself, and then the man who buried him – all in the same short space of time.
In short, know this: Human lives are brief and trivial. Yesterday a blob of semen, tomorrow enbalming fluid and ash.
To pass through this brief life as nature demands. To give up without complaint. Like an olive that ripens and falls. Praising its mother, thanking the tree it grew on.
As you kiss your son good night, says Epictetus, whisper to yourself "He may be dead in the morning".
DEATH OF OTHERS
That before long you'll be no one, and nowhere. Like all the things you see now. All the people now living. Everything's destiny is to change, to be transformed, to perish. So that new things can be born.
Stop whatever you're doing for a moment and ask yourself: Am I afraid of death because I won't be able to do THIS anymore?
The condition of soul and body when death comes for us. Shortness of life. Vastness of time before and after. Fragility of matter.
Forget everything else. Keep hold of this alone and remember it: Each of us lives only now, this brief instant.
The rest has been lived already, or is impossible to see.
The span we live is small – small as the corner of Earth in which we live it.
Small as even the greatest renown, passed from mouth to mouth by short-lived stick figures, ignorant alike of themselves and those long dead.
USING DEATH AS A MOTIVATION FORCE
Think of yourself as dead. You have lived your life. Now take what's left and live it properly.
We need to hurry. Not just because we move daily closer to death but also because our understanding – our grasp of the world – may be gone before we get there
The lamp shines until it is put out, without losing its gleam, and yet in you it all gutters out so early – truth, justice, self-control?
Even if you're going to live three thousand more years, or ten times that, remember: you cannot lose another life than the one you're living now, or live another than the one you're losing.
Keep in mind how fast things pass by and are gone – those that are now, and those to come.
Existence flows past us like a river: the 'what' is in constant flux, the 'why' has a thousand variations. Nothing is stable, not even what's right here.
The infinity of past and future gapes before us – a chasm whose depths we cannot see.
So it would take an idiot to feel self-importance or distress. Or any indignation, either. As if the things that irritate us lasted.
Soon your chance at dignity will be gone. Everyone gets one life. Your is almost used up, and instead of treating yourself with respect, you have entrusted your own happiness to the souls of others.
Not to live as if you had endless years ahead of you. Death overshadows you. While you're alive and able – be good.
HUMILITY
Remember:
MATTER: How tiny your share of it.
TIME: How brief and fleeting your allotment of it.
FATE: How small a role you play in it.
Close to forgetting it all. Close to being forgotten.
So many who were remembered already forgotten, and those who remembered them long gone.
Soon you'll be ashes, or bones. A mere name, at most – and even that is just a sound, an echo. The things we want in life are empty, stale, and trivial.
CHANGE
THE WORLD AROUND YOU
Grapes: Unripe… ripened… then raisins Constant transitions. Not the "not" but the "not yet"
There is nothing bad in undergoing change – or good in emerging from it.
Before long, nature, which controls it all, will alter everything you see and use it as material for something else – over and over again. So that the world is continually renewed.
Some things are rushing into existence, others out of it. Some of what now exists is already gone
Change and flux constantly remake the world, just as the incessant progression of time remakes eternity. –
We find ourselves in a river. Which of the thigns around us should we value when none of them can offer a firm foothold?
Like an attachment to a sparrow: we glimpse it and it's gone.
And life itself: like the decoction of blood, the drawing of air. We expel the power of breathing we drew in at birth (just yesterday or the day before), breathing it out like the air we exhale at each moment.
WITHIN YOUR OWN HEAD
If anyone can refute me
show me I'm making a mistake or looking at things from the wrong perspective
I'll gladly change. It's the truth I'm after, and the truth never harmed anyone. What harms us is to persist in self-deceit and ignorance.
Throw out your misperceptions and you'll be fine (and who's stopping you from throwing them out?)
COMMUNITY & RELATIONSHIPS
DON'T TRY TO CHANGE OTHERS
It's silly to try to escape other people's faults. They are inescapable. Just try to escape your own.
Leave other peoples' mistakes where they lie.
Ignoring what goes on in other people's souls – no one ever came to grief that way. But if you keep track of what your OWN soul's doing, how can you NOT be happy?
You can hold your breath until you turn blue, but they'll still go on doing it
No judgement of others
Don't pull people out of their misery
IGNORING OPINIONS OF OTHERS
If they have injured you, then they're the ones that have suffered for it. But have they?
What's their to complain about? People's misbehaviour?
But take into consideration:  – that rational beings exist for one another  – that doing what's right sometimes requires patience  – that no one does the wrong thing deliberately  – and the number of people who have feuded and envied and hated and fought and died and been burried … and keep your mouth shut.
If an action or utterance is appropriate, then it's appropriate for you.
Don't be put off by other people's comments and criticism. If it's right to say or do it, then it's the right thing for you to do or say.   –
The others obey their own lead, follow their own impulses. Don't be distracted. Keep walking. Follow your own nature, and follow Nature – along the road they share.
It never ceases to amaze me: we all love ourselves more than other people, but care more about their opinion than our own.
Look at who they really are, the people whose approval you long for, and what their minds are really like.
Then you won't blame the ones who make mistakes they can't help, and you won't feel a need for their approval. You will have seen the sources of both – their judgements and their actions.
Enter their minds, and you'll find the judges you're so afraid of – and how judiciously they judge themselves.
We want praise from people who kick themselves every 15 minutes, the approval of people who despise themselves. (Is it a sign of self-respect to regret nearly everything you do?)
Praise from people who despise themselves. Most peoples praise shouldn't mean anything.
Don't waste the rest of your time here worrying about other people – unless it affects the common good.
It will keep you from doing anything useful. You'll be too preoccupied with what so-and-so is doing, and why, and what they're saying, and what they're thinking, and what they're up to, and all the other things that throw you off and keep you from focusing on your own mind.
The tranquility that comes when you stop caring what they say. Or think, or do. Only what YOU do. (Is this fair? Is this the right thing to do?).
Not to be distracted by their darkness – to run straight for the finish line, unswerving.
WORK AS ITS OWN REWARD / NOT SEEKING PRAISE OR VALIDATION
You've given aid and they've received it. And yet, like an idiot, you keep holding out for more: to be credited with Good Deed, to be repaid in kind. Why?
Beautiful things of any kind are beautiful in themselves and suffcient to themselves.
Praise is extraneous.
The object of praise remains what it is – no better and no worse. This applies even to 'beautiful' things in ordinary life – physical objects, artwork.   –
Does anything genuinely beautiful need suplimenting?
No more than justice does – or kindness, or truth, or humility. Are any of those things improved by being praised?
Or damaged by contempt? Is an emerald suddenly flawed if no one admires it? Or gold, or ivory, or flowers?
(Praise doesn't add anything… Don't be so desperate for it..)
That sort of person is bound to do that. You might as well resent a fig tree for secreting juice. (Anyway, before very long you'll both be dead – dead and soon forgotten)
PUTTING UP WITH OTHERS
When faced with people's bad behaviour, turn around and ask when YOU have acted like that.
When you saw money as a good, or pleasure, or social position. Your anger will subside as soon as you recognise that they acted under compulsion (what else could they do?). OR – remove the compulsion if you can
They flatter one another out of contempt, and their desire to rule one another makes them bow and scrape
How cruel – to forbid people to want what they think is good for them. And yet that's just what you won't let them do when you get angry at their misbehaviour. They're drawn toward what they think is good for them   –  But it's NOT good for them  –  Then show them that. Prove it to them. Instead of losing your temper.
People are doing their best
UNDERSTANDING OTHERS
People exist for one another. You can instruct them or endure them.
Practice really hearing what other people say. Do your best to get inside their minds.
RELATIONSHIPS
Three relationships: 1. with the body you inhabit 2. with the divine, the cause of everything in all things 3. with the people around you
FOR THE GOOD OF OTHERS
Have I done something for the common good? Then I share in the benefits.  To stay centred on that. Not to give up.
At festivals the Spartans put their guests' seats in the shade, but sat themselves down anywhere
HARM
If it does not harm the community, it does not harm its members. When you think you've been injured, apply this rule: If the community isn;t injured, neither am I. And if it is, anger is not the answer. Show the offender where he went wrong.
A branch cut away from the branch beside it is simultaneously cut away from the whole tree. So too a human being separated from another is cut loose from the whole community.   The branch is cut off by someone else. But people cut themselves off – through hatred, through rejection – and don't realise that they're cutting themselves off from the whole civic enterprise. But we have a gift – we can reattach ourselves and become once more components of the whole (AA – scar always visible?)
COMMUNITY / ENTANGLEMENT
What injures the hive injures the bee.
RECAP OF THE BEST STUFF:
FOCUS ON WHAT YOU CAN CONTROL
TAKE OWNERSHIP
TAKE RESPONSIBILITY
BE PROACTIVE
CHOOSE YOUR REACTIONS (YOU HAVE THE ABILITY TO CHOOSE)
HAVE STRONG CHARACTER/MORALS
FOCUS ON COMMUNITY AND RELATIONSHIPS
ACCEPT THINGS YOU CANNOT CONTROL
BE HUMBLE
DEATH IS INEVITABLE
OTHER PEOPLE CAN BE ANNOYING, BUT DON'T LET YOURSELF BE ANNOYED
DON'T TRY TO CHANGE OTHER PEOPLE (BEHAVIOURS / THOUGHTS)
DON'T GET CAUGHT IN THE OPINIONS OF OTHERS, DON'T TRY TO PLEASE EVERYONE
THE WOLRD DOES WHAT THE WORLD DOES
Get Your Copy of Meditations by Marcus Aurellius